The ACOUSTIC | DESIGN division by CELENIT deals with sound-absorbing coverings for the correction of reverberation in highly crowded environments such as hotels, restaurants, swimming pools & spas, offices and conviviality spaces. These environments require particular design attention to guarantee comfort, relaxation, lightness, and all those aspects linked to being together. However, we often tend to focus on the aesthetics of the room, neglecting the acoustic aspect, which if it is missing, discomfort is guaranteed.
The need to combine functionality, comfort and design, and the growing requests of planners and designers who are continuously searching for creative ideas, pushed CELENIT to introduce the
DESIGN SOLUTIONS
range with the two GROOVE and SHAPES collections. These are customizations of traditional wood wool panels with extra-thin texture (product ref. CELENIT ABE) for application as false ceilings or wall coverings, made respectively by surface milling and cutting into geometric shapes.
The
GROOVE
collection in its standard configuration, now called GROOVE BASIC, had already been introduced in 2017 on the occasion of architect@work Milan and awarded the following year by the Archiproducts Design Award but it is in September 2023 that CELENIT enriches the collection of new solutions: the new GROOVE SMART and GROOVE DESIGN surface processes.
Starting from BASIC, made only of longitudinal parallel lines, we moved on to SMART, geometric modules of bevelled milling, repeatable or combinable with each other, up to DESIGN, designed for single or series installation to create rhythm with infinite combinations.
In this case we can abandon the definition of "acoustic panels" to start talking about "sound-absorbing surfaces" as the designers have the possibility to compose the various modules and design the covering based on the needs of the specific project.
The
SHAPES
collection includes all the customizations that are obtained by cutting the panels into geometric shapes with a beveled edge. The LEGNOMURO - so named in the context of co-marketing with our Spanish customer Maydisa - is the basic model, i.e. a 290x290 mm square, also available in the larger format called SQUARE. The other geometric shapes follow: HEXAGON, TRIANGLE, CIRCLE, PARALLELOGRAM, TILE and RECTANGLE, all available in the basic "small" format or in the largest module, "large". They are mainly proposed for combined pattern wall applications.
The surface finish for all customizations can be chosen between the natural ivory color (code V02) or one of the thirty shades proposed in the ranges: WINTER gray scale, SPRING pastel colors, SUMMER bright colors, AUTUMN warm colors. Or you can evaluate custom RAL or NCS colors.
With CELENIT DESIGN SOLUTIONS the highly performing and environmentally friendly panels make decisive step forward the creative design.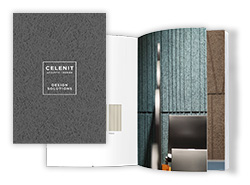 CELENIT DESIGN SOLUTIONS
Brochure download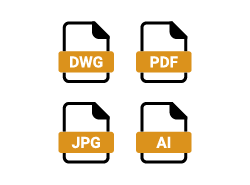 DESIGN TOOLKIT
Toolkit download